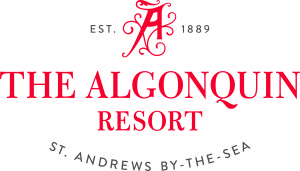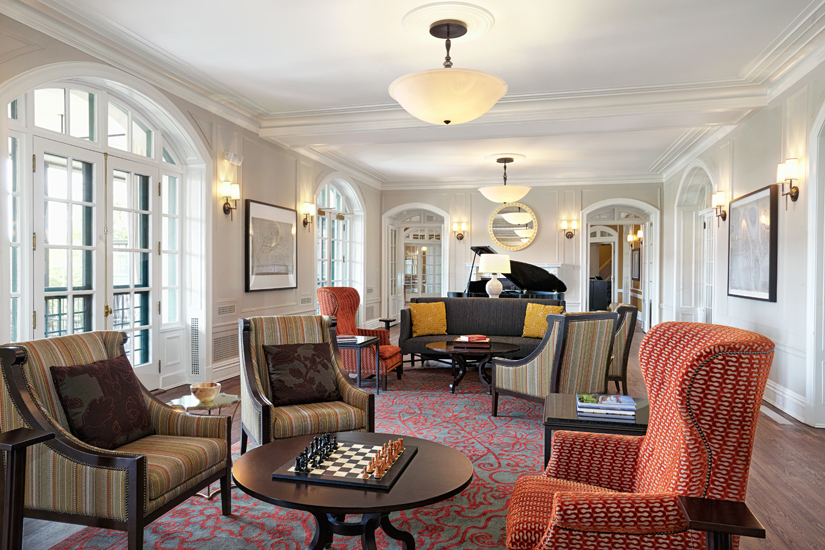 One should never feel guilty about retreating from the routine of everyday life. On the contrary, experiencing the joys and restorative delights of The Algonquin Resort is an absolute triumph of leisurely diversion. For generations, travelers have escaped to The Algonquin, in New Brunswick's charming town of St. Andrews by-the-Sea, for its majestic presence, maritime hospitality, and invigorating seaside allure. Now it's your turn to indulge in an experience so special, so luxurious, you'll wonder what took you so long.
The Algonquin is one of Canada's most luxurious and legendary resorts. Rich in history, meticulously restored to its original splendour, and complete with every modern comfort you could desire, this year-round destination truly offers the best of the past with contemporary amenities. The iconic building and its grounds are an oasis. Elegant guest rooms, contemporary dining, indoor and outdoor pools, waterslide, a pampering spa, private beach, manicured gardens, and cocktails on our historic veranda add up to a vacation to savour and remember.
Venture off resort grounds and discover an entirely new escape. One defined by the Passamaquoddy Bay, the nearby Bay of Fundy, the quaint seaside town of St. Andrews, and the award-winning Algonquin Golf Course. Beaches, shopping, festivals, the world's highest tides, whale watching, golf, and more can fill your day with leisurely pastimes.
Whether visiting for a family getaway, couple's retreat, celebration, or corporate event of any kind or size, The Algonquin is awaiting your arrival. Just enough off the beaten path that you can truly lose yourself. Of course, maps are also available at the front desk.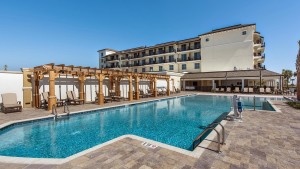 The Westin Jekyll Island Hotel, is one of the newest Jekyll Island hotels and Westin's most recent addition to the Southeast. Located along the beautiful Georgia coastline, The Westin Jekyll Island offers direct beach access and breathtaking ocean views.  Experience Jekyll Island's top attractions all within close proximity to the property, and shop at the Jekyll Island Beach Village, located directly next door to the Westin. Whatever your passion, find it on Jekyll. Stroll along miles of barrier island beaches, go behind the scenes at The Georgia Sea Turtle Center or explore the island with over 20 miles of bike paths. Jekyll Island is a state park, and is over two-thirds of the land is protected from development. At one time, the island served as a winter retreat for the nineteenth and early twentieth century American elite, including families such as the Rockefellers, Morgans, and Pulitzers.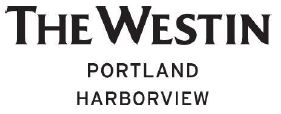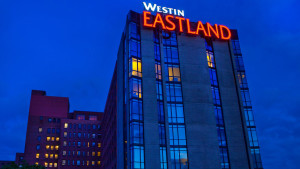 The Westin Portland Harborview: Our hotel features an ideal location in the heart of the vibrant Arts District in downtown Portland. Step outside and discover the many things to do in Portland, Maine including the Portland Museum of Art, the State Theatre, Cross Insurance Arena and more. A short walk takes you to Portland's Old Port district and Casco Bay. Whether you're looking forward to a restful weekend to unwind and recharge, a celebratory trip, a beautiful Portland, Maine wedding or a productive business meeting, you'll find everything you need at this beautiful historic hotel.

Founded by David Buffam with an emphasis on turn around acquisitions, New Castle expanded its capabilities in 1988 when Gerry Chase joined New Castle as chief operating officer.
Today, New Castle is known for both exceptional expertise in management and operations and a history of successful participation in profitable acquisitions and development projects. Over the years – and in the face of multiple economic cycles and rapid industry evolution – New Castle has remained nimble, demonstrating an ability to evolve and adapt to a changing landscape while maintaining the patience, tenacity, and integrity that have always characterized its professional practice. Along the way, David and Gerry have built an outstanding team of best-in-class managers and associates and established a company culture built on respect, trust and loyalty.
New Castle consistently ranks among the top 100 US hotel management and development companies in industry trade publications, and works in close partnership with many of the industry's leading brands. After more than 30 years, the company continues to pursue strategic growth opportunities that extend its reach and portfolio, align with its corporate values, create exciting opportunities for partners and employees, and deliver exceptional experiences to guests.